Education scholarships for Teachers: Here is all you want to know
You may be a teacher looking for ways to further your education and improve your classroom skills. However, the cost of tuition and other expenses can be a significant impediment. Fortunately, there are numerous scholarships available for educators. Teachers play a critical role in shaping our society's future. They inspire and educate the next generation, and their influence will be felt for many years to come. Many teachers, however, face financial barriers to furthering their education. Scholarships can help to cover some of these expenses and allow educators to pursue advanced degrees or professional development opportunities. Various organisations and institutions offer scholarships specifically for teachers to address this issue. In this article, we will look at education scholarships for teachers, the benefits they provide, as well as the eligibility criteria and application process.
Types of Education Scholarships for Teachers
There are numerous education scholarships available for teachers. Professional organisations provide some, while universities or private foundations provide others. Some scholarships are only available to teachers in specific subject areas or grade levels, while others are available to all educators. Furthermore, some scholarships may cover the entire cost of tuition, whereas others provide only a portion of the funding.
The federal government's TEACH Grant is one example of an education scholarship for teachers. This grant offers up to $4,000 per year to students pursuing a degree in education and intending to teach in a high-need field or in a low-income area. The James Madison Fellowship, which provides up to $24,000 for teachers pursuing a master's degree in American history, government, or civics, is another option.
Teachers can apply for various types of education scholarships. Some examples are:
Government Scholarships: Several government organisations, including the United States Department of Education, provide scholarships to teachers to help them pay for their education or professional development.
Private Scholarships: Scholarships for teachers are available from private organisations, foundations, and corporations. Specific criteria, such as academic achievement, the field of study, or community involvement, may be used to award these scholarships.
College Scholarships: Many colleges and universities provide scholarships to students who want to be teachers or who are already teachers. Tuition, fees, and other expenses may be covered by these scholarships.
Benefits of Education Scholarships for Teachers
Teachers can benefit from education scholarships in a variety of ways, including
Scholarships provide financial assistance to teachers who want to pursue higher education or professional development. This assistance can alleviate their financial burden and allow them to concentrate on their studies.
Scholarships can help teachers improve their skills and knowledge, allowing them to provide a better education to their students.
Scholarships provide recognition for teachers' hard work and dedication and can help boost their morale and motivation.
Eligibility Criteria and Application Process
The criteria for eligibility for education scholarships for teachers vary depending on the scholarship. Some common requirements are as follows:
Applicant must be a current or aspiring teacher.
Applicant must be enrolled in or planning to enrol in an accredited educational institution.
Applicant must have a minimum GPA or meet other academic requirements.
Applicant must demonstrate financial need or meet other eligibility criteria.
The application procedure varies according to the scholarship. Applicants must typically submit an application form, academic transcripts, essays or personal statements, and letters of recommendation. Some scholarships may necessitate an interview or other forms of documentation.
How to Apply for Education Scholarships
To apply for education scholarships, you must typically submit an application that includes information about your educational background, teaching experience, and career objectives. Transcripts, letters of recommendation, and a personal statement may also be required. Before applying for a scholarship, carefully read the requirements and ensure that you meet all of the eligibility criteria.
Conclusion
Education scholarships for teachers provide an excellent opportunity for teachers to expand their knowledge, skills, and professional development. They provide financial assistance and recognition for teachers' hard work and dedication, and can ultimately benefit future generations' education. To increase their chances of receiving an education scholarship, teachers should research available scholarships and carefully review eligibility requirements and application processes. Teachers who want to further their education and improve their classroom skills can benefit from education scholarships. Educators who take advantage of these opportunities can improve their teaching abilities, increase their earning potential, and have a greater impact on their students. There are benefits to pursuing a master's degree or attending a professional development workshop.
Thousands of people converge in London for the Coronation of King Charles III
The first coronation in 70 years has begun, with King Charles III and the Queen Consort ready for their historic carriage trip to Westminster Abbey.
Crowds of people wearing Union jacks have gathered along the parade route in London, eager to see the King.
There will be 2,300 guests inside the abbey, including 100 heads of state.
Celebrity visitors have also arrived, including actress Emma Thompson and US singer Katy Perry.
The service will begin at 11:00 BST and last around two hours.
The notion of service will be central to King Charles' Coronation, and in his first prayer upon entering the Abbey, he will remark, "I come not to be served, but to serve."
The King and Camilla will travel to Buckingham Palace after the ceremony.
The Duke of Sussex, who came from the United States on a commercial aircraft on Friday, is also on the guest list.
It will be his first public appearance alongside his brother, Prince William, since the publication of his memoir, Spare.
Prince Harry is expected to fly back to the United States shortly after the ceremony to rejoin his wife, Meghan, since their baby Archie is celebrating his birthday.
As the rain begins to fall, umbrellas begin to appear along the procession path.
Despite the English weather, there has been a festive vibe on The Mall, with frequent Mexican waves and cheers for police officers and security guards.
Alexandra Hornyak, 57, of Montreal, Canada, will be among those viewing from Green Park.
"I've known for years that I would want to attend this day, and the day that it was announced, I was driving to the office, and my husband just called me and said 'May 6'," she told the BBC.
"I knew exactly what it was. And I jumped on the phone to get a hotel reservation and we went from there."
Karen Daly, 54, from Birmingham, said "We could have done this at home, but the atmosphere is so good and everyone's really happy.
"When the Queen died, we couldn't make it because we all couldn't get out of work. So we booked off as soon as we knew about the coronation."
When his mother Elizabeth died after 70 years on the throne, Charles ascended to the throne of the United Kingdom and 14 other nations.
The crowning ceremonies, the 40th to take place at Westminster Abbey since 1066, have been months in the making.
Outside the abbey, unlike the procession path, there are no crowds because it is closed to the public prior to the ceremony.
The ceremony will be led by Justin Welby, Archbishop of Canterbury, who will be accompanied by Stephen Cottrell, Archbishop of York.
"There have been wall-to-wall rehearsals this week, and indeed last week," he told BBC Radio 4's Today programme.
"None of us have done this for a very long time, so working out the choreography has been complex".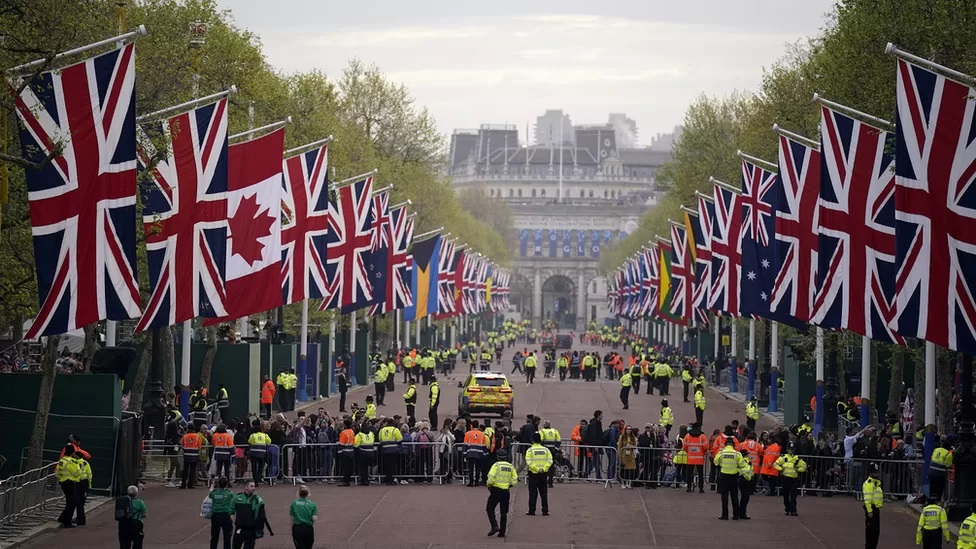 The ceremony's high point will be the placing of the St Edward's Crown on the King's head, which will be signalled by the abbey bells and a gun salute at the adjacent Horse Guards Parade.
Camilla will be crowned alongside Charles, and following the couple's long and often difficult relationship, she will be referred to as "Queen Camilla" for the first time.
The event will promote diversity and inclusivity, with more multi-faith aspects than any previous coronation, including contributions from representatives from Jewish, Muslim, Buddhist, and Sikh faiths.
Prime Minister Rishi Sunak, who is Hindu, will read a Bible lesson, and songs will be sung in Welsh, Scottish, and Irish Gaelic.
For the first time in a coronation ritual dating back over a thousand years, women bishops will be present.
Following the service, King Charles and Queen Camilla will ride in the Gold State Coach back to Buckingham Palace in a mile-long (1.6km) parade led by 4,000 troops and 19 military bands.
When they arrive at the palace, it is unclear who will accompany the King and Queen to the ceremonial balcony appearance.
There are plans for a flypast when the senior royals are on the palace balcony, but the weather prediction is for overcast and rain.
What else is happening around the UK on Coronation day?
The Coronation has also drawn a tiny number of protestors from Republic, the organisation advocating for the monarchy's overthrow.
Six demonstrators were detained while unloading a trailer with banners just north of the square.
There will be a tremendous security operation, with the Metropolitan Police deploying 11,500 police in what they claim will be their largest single-day deployment ever.
Protesters against the monarchy have maintained their right to demonstrate, but police have warned that "tolerance for any disruption, whether through protest or otherwise, will be low."
The invitation of Chinese Vice President Han Zheng, who is accused of presiding over a crackdown on civil freedoms in Hong Kong, has also been questioned.
There has also been considerable debate about whether or not individuals at home were asked to vow their loyalty to the King.
The Church of England has said that this is completely optional and that individuals may instead have a "private moment of reflection."
How to Check the SIM Cards Connected to Your Ghana Card
Mobile Phone Customers can now check their SIMs linked to their Ghana Cards effective 1st May 2023.
This can be made possible by going through the following steps:
STEP 1
Dial *402*1#
STEP 2
Enter your Ghana Card PIN for verification.
STEP 3
Enter your date of birth for verification.
RESULTS
Once verified you'll receive an SMS with a list of mobile numbers linked to your Ghana Card, including their corresponding networks.
ACTION
If you identify any unknown mobile number(s) linked to your Ghana Card, request for a delinking of the number(s) from your service provider immediately.
For Individual SIM Registrations
If you wish to delink any number from the list of registered numbers you receive after using the shortcode/USSD, kindly visit your Service Provider Customer Care Shop (not Agent) with your Ghana Card. Please note that your Service Provider will conduct a full Know Your Customer (KYC) before a delinking will be affected.
For Business SIM Registrations
Service Providers will release a Webpage with a security login as some businesses have over 200 numbers and text messages cannot show all.
Accra's Top 10 Restaurants – Best Restaurants
Accra, Ghana's capital city, is known for its colourful culture, friendly people, and delectable cuisine. The city is a cultural melting pot, which is reflected in the variety of foods available. Accra has something for everyone, from native Ghanaian cuisines to cosmopolitan cuisine. In this article, will look at the top ten restaurants in Accra, Ghana in no particular order.
Buka Restaurant
Buka Restaurant is a famous dining establishment that provides traditional Ghanaian foods in a modern and elegant atmosphere. The restaurant lies in Osu, one of Accra's busiest neighbourhoods. Buka Restaurant serves a range of traditional Nigerian foods such as banku, jollof rice, and grilled fish. The restaurant is also well-known for its great customer service and welcoming atmosphere.
Urban Grill
Urban Grill is a modern restaurant serving African-inspired food with a contemporary touch. The restaurant is located in Accra's Airport Residential Area and offers a large outside dining area. Urban Grill's menu includes grilled lamb chops, lobster tail, and prawn skewers, among other meat and seafood options. The restaurant also boasts a comprehensive wine list that complements their meal.
Coco Lounge
Coco Lounge is a well-known restaurant and lounge that provides a quality dining experience in a stylish environment. The restaurant, which is located in the centre of Accra, is recognised for its unique cuisine, which features foods from all over the world. Signature dishes at the restaurant include seafood paella, truffle mac & cheese, and the Coco Burger. Coco Lounge also includes a bar with specialty drinks and a large wine list.
Azmera Restaurant
Azmera Restaurant is a typical Ghanaian restaurant with authentic local delicacies served in a rustic atmosphere. The restaurant offers a nice environment and is located in Accra's Adenta neighbourhood. Azmera Restaurant's menu includes a range of local cuisines such as fufu, banku, and kenkey. The restaurant also has a bar where you can order native cocktails like palm wine and sobolo.
Santoku
Santoku is a Japanese restaurant in Accra's Villagio Vista complex. Sushi, sashimi, and udon noodles are among the classic Japanese cuisine served at the restaurant. Santoku's décor is contemporary and streamlined, making it ideal for an intimate evening. The restaurant also includes a bar where Japanese-inspired drinks are served.
Chez Clarisse
Chez Clarisse is a prominent Ivorian restaurant in Accra's Osu neighbourhood. The restaurant provides Ivorian cuisine such attieke, grilled chicken, and fish stew. Chez Clarisse provides a relaxed atmosphere that is ideal for a casual evening with friends.
Mama Mia Pizzeria
Mama Mia Pizzeria is a prominent Italian restaurant in Accra's East Legon neighbourhood. The restaurant specialises in genuine Italian pizzas cooked with fresh ingredients. Mama Mia Pizzeria also includes a bar where Italian wines and drinks are served. The restaurant offers a welcoming atmosphere and is ideal for a relaxed evening with family and friends.
Captain Hook's
Captain Hook's is a seafood restaurant in Accra's Airport Residential Area. The restaurant features grilled tilapia, lobster, and prawns, among other seafood delicacies. Captain Hook's nautical-themed atmosphere is ideal for a seafood supper. The restaurant also includes a bar with a large range of wines and specialty drinks.
The Republic
The Republic is a modern Accra restaurant located in the Osu neighbourhood. Burgers, pizzas, and tacos are among the foreign foods available at the restaurant.
La Chaumière
La Chaumière is a French restaurant in Accra that provides traditional French fare. Escargot, foie gras, and steak frites are among the restaurant's specialties.
Accra boasts a wide variety of eateries that provide delectable meals from all over the world. These top 10 Accra restaurants are a must-visit for anybody wishing to taste the finest of Ghanaian food and culture, whether you're looking for traditional Ghanaian delicacies or foreign cuisine.